Smart IP Home & Community's Communication
Lifestyle concept solutions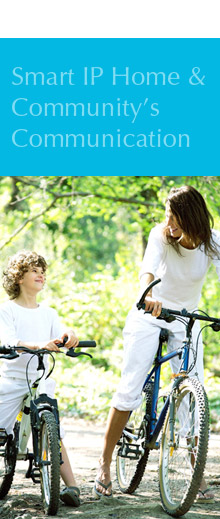 We proposed that for every development project with similar concept, each home or office unit is equipped with our Video and standard IP System as well as high speed internet access when the planned Fibre to House (FFTH) infrastructure is in place. Home buyers are also treated to top-notch security in the gated and community. Apart from round-the-clock surveillance from CCTV cameras and guards, the residences at your developed properties will have built-in IP-Phones, IP Door Excess and IP Surveillance Security System in the community. What's more, this will be the first development in the country to have an intelligent sensor fence.
The proposed solution on communication and security for smart home involves the use of pure IP based equipments can be set to save the development cost of having supply of one fiber optic cable only, instead of two. The telephony systems can be powered without the twisted pair (RJ9) cables.
All home units including the guard house will be connected to the central system to be located in the management office. Each home unit will be equipped with a small IP-PBX and router where multiple IP-Phones can be installed within the home areas. This IP-PBX can support some Telco's lines (PSTN example the TELEKOM), if the home owner wishes to apply. Within the same network, home owners are able to view the incoming visitor and open the lobby's door via its IP-Phone. Home owners can view from his home unit to several locations that are equipped with IP-CCTV, example the swimming pool vicinity, the tennis court, restaurants or the common area. This is for their convenience to check if the areas are packed with people or it's good to go.
We also propose to put up some IP-Safety equipment for emergency use at the common areas like the pool side, parking lots, and etc. This is to allow home owners to call to the guard or management office during emergency arises. The system will alert the guard on the location of the emergency, as the system is able to pre-register all locations hence making a shorter time to the save.